Brent Fitz is a Canadian-American musician and multi-instrumentalist. He is best known as a drummer, but he also plays guitar, bass and keyboards. In his career, he has worked with Slash, Myles Kennedy, Theory of a Deadman, Alice Cooper, Vine Neil, Union, Brad Whitford, Derek St. Holmes, The Guess Who, Ronnie Montrose, Bruce Kulick, Indigenous, Lamya, Streetheart, Harlequin, Econoline Crush, Monster Truck, Gene Simmons, Sass Jordan and Toque...and the list continues to grow.

It is my great honor and privilege to preserve this drumstick and guitar pick history for my friend, Brent Fitz. - Ken Rodenas
1998-2001 UNION

Custom sticks actually did not come along until 2000.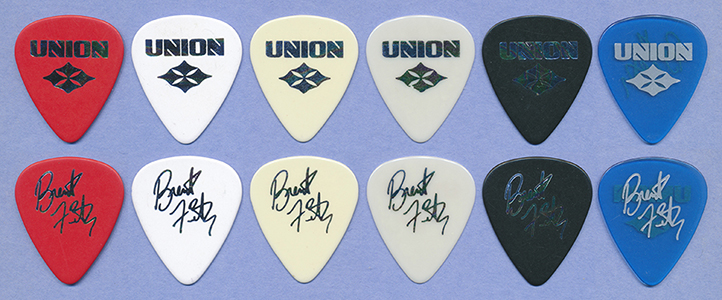 2001-2004 VINCE NEIL


Annie's, Cincinnati, OH 07/05/2001


Different bead/tip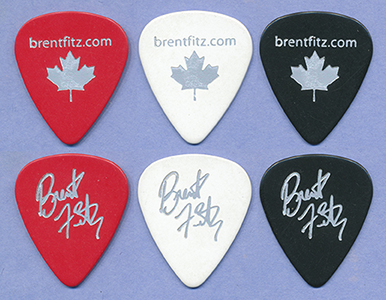 2005-2006 THEORY OF A DEADMAN


I believe these were also printed in blue.
2007-2009 ALICE COOPER, INDIGENOUS, ECONOLINE CRUSH

2010-2015 SLASH featuring Miles Kennedy & The Conspirators

Rock On The Range, Crew Stadium, Columbus, OH May 19, 2012


Different bead/tip. Used in studio to record "World On Fire" album.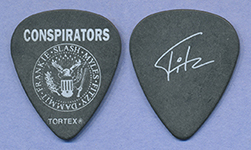 2016 WHITFORD/ST. HOLMES

PNC Pavilion, Cincinnati, OH 6/13/2016
2016-2018 TOQUE, THE GUESS WHO, MONSTER TRUCK, GENE SIMMONS

2016 TOQUE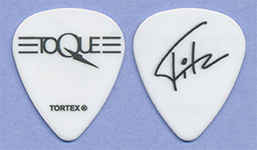 2017 KISS Kruise VII
(with Bruce Kulick, Bob Kulick and Todd Kerns)

KISS Kruise VII, Norwegian Pearl 11/5/2017
2018 PROMOTIONAL


1A is too light and too thin for a heavy rocker, so promotional giveaways are born.
2018 GENE SIMMONS BAND

Since Brent wraps the handles with stick tape, printing on the handles is a problem, so promotional giveaways are born.

2018-2019 SLASH featuring Miles Kennedy & The Conspirators

©1999-2019 Ken Rodenas, all rights reserved.
All text and photos posted on this page are the sole property of Ken Rodenas. Any copying, reproduction
or use of these texts or images without the express written consent of Ken Rodenas is strictly prohibited.